"Nobody puts Baby in the corner."  Well, you might if you live in a small space.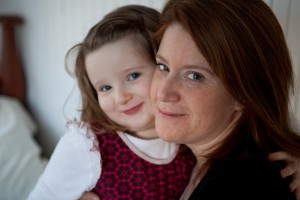 You don't need to live in a McMansion to raise a happy child – you just need different (smaller) things. Citybaby Living brings you helpful advice and product suggestions for cool stuff/gear/design ideas for small space living with kids.
My name is Emily and I live on the edge of Boston in a 1,200 sq foot 2.5 bedroom apartment with my husband, my two daughters 6 year old Peep and 15 month old Teapot.  1,200 feet is a luxury to raise a child in – this I know by watching my sister Abby, her husband and their daughter live and expand into one of Brooklyn's finest 650 sq foot railroad apartments.  Going shopping with her in Manhattan is where Citybaby Living was first dreamed up.
I was in a Manhattan baby store looking at cribs with my sister who is trying to find something to fit into her tiny apartment.  Besides the Stokke crib (which is what we have), all they had were GIGANTIC cribs for sale.  Surely they must have a small crib section right?  Surely they must know their clientele don't have gobs of space.  Surely they must have other options than this?  But no, the answer was a resounding no.  How was this possible? What did people do who don't have room for enormous cribs that convert into full size double beds?
The answer is that they have to do a lot of research to find smaller beds and the same is true for all other baby gear.  As I worked with my sister on finding these, I realized there is no place where people can look at multiple small options all in one place.  So since I was in the middle of a "mid-life adjustment" and had left my full time job (outside the house) to stay home with Peep for the year before kindergarten, I decided to start this blog dedicated to small space living with kids.
Check out the My CityBabies section to see more about me and my family as we navigate small space living together.