My daughter's room is a converted porch measuring 7.5' by 11' which should be plenty of room for one small child.  It is a very sweet room that is only accessed through our bedroom.  It also comes with 6 windows, 2 doors, a radiator and a built in window seat.  There is no wall that doesn't have some design challenge and there was no way a huge crib would fit.  We also were not interested in the design of these cribs.  This was 4.5 years ago and the options were slim.
When I started to research smaller cribs, there wasn't much available besides the Stokke Sleepi. Honestly, I also stopped researching after I found it because my husband and I both fell in love with it.  It ended up in the middle of the room with bright orange bedding and the rest of the room fell in around it.  Our decision to purchase this also guided our philosophy that we would purchase fewer, more expensive items that we loved instead of many things we only sort of liked. (This was how we ended up with the Bugaboo Chameleon, but that is another post.)
The Stokke crib is a great crib for small to medium sized spaces.  There are smaller cribs that will fit better into nooks and tiny spaces.
Pros: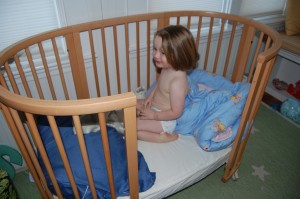 Small footprint – 29.1″ x 50″ x 34.6″ (DxWxH)
The oval design is plain, simple and unique
There are 2 adjustable mattress levels for the baby
One side can be removed for an active toddler
Grows with your child – can be fully converted into a junior bed (with additional purchase of an extension kit)
Easy to re-sell once you are out of the crib stage
Cons:
Expensive but in line with most mid/high end cribs
Must purchase oval sheets which are harder to find, expensive and not always the design you covet
That's it, I loved it.