The Svan Signet high chair is a beautifully designed wooden high chair designed by two fathers in Sweden.  The company's mission is create functional baby/children products that parents won't mind keeping out when company comes over.  They didn't even need to tell me more.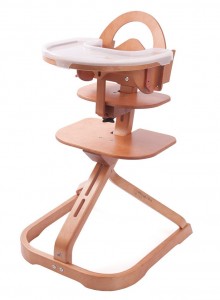 As with all products I like to write about, the Svan high chair has a small footprint – 34.5 X 20 X 22.25″ (H xWxL) and is designed to be the size of a typical kitchen chair that (without its tray) can be pulled up to a table.
Similarly to the Stokke Tripp Trapp (our high chair) the Svan high chair is a multi-stage adjustable high chair that grows with your child.  It comes with a removable tray (and plastic tray cover for easy cleaning) for when your child is younger, but once removed you can use it forever (The adult weight limit is 250lbs!)
Additional Features:
5 point adjustable harness
Plastic tray is BPA and phthalate free and can be washed in the dish washer
When removed, the tray can be conveniently stored on the back of the chair
The chair is made from solid bent birch wood
It is available in Whitewash, Natural, Cherry, Mahogany and Espresso
Colorful cushions are also available
The complete Svan Signet high chair includes the tray, pastic tray guard, and the Svan safety guard with crotch bar.  It is also available without those so if you decide to buy, make sure you really get what you need for your stage.  The complete set retails for around $249.
On a personal note…my sister has this for her 1 year old and could NOT love it more.  They have a 600 square foot railroad apartment so as you can imagine, space is at a premium.  This chair made the cut.  I'm just saying – big endorsement.