I announced earlier this week that we're expecting another child, a girl, in early December.  Since we already have Peep, we have more than enough of the stuff any little girl will need.  But the one thing she will need is a room to live in!  The new baby and Peep will be sharing a room that we currently use as a guest room or really just a place for furniture & stuff to live in when we don't know what to do with it.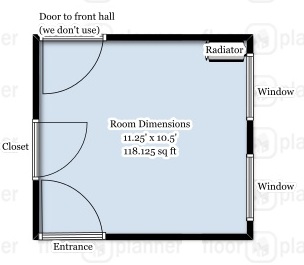 I used Floorplanner (a great online tool) to help get me started because this is one difficult room to layout.  To begin with, it's small – only 118 square feet.  It also has 2 doors, a closet, 2 windows and a radiator…so there are no clear walls.
I am very confident that with a lot of creativity, some Pinterest searching for shared kids room ideas, a little elbow grease and one excited almost 5 year old it will get done.  All of our progress will be updated here!
Anyone have any good ideas for us to start with?