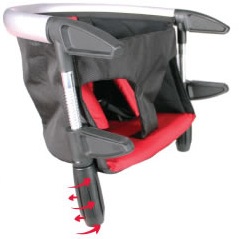 Phil & Teds is a great company for City Babies.  They have great design, reasonable prices and have really been at the forefront of designing products that are small, user-friendly and useful.
I love their Lobster portable high chair.  Not only can you bring this to restaurants, but there is no reason why you couldn't have this as your main high chair and save the room!
The greatest part feature of the lobster is the ease of which it can be attached to a table.  With a simple twist on and twist off, it's done.  The lobster has a 5 point harness to keep even the squirmiest ones safe and sound. There is also a food tray that attaches under the grips that makes for easy clean up.
The entire unit only weighs 3.9lbs which makes it convenient to travel with, and best of all, it can be used for kids up to 37 lbs!  It can easily be found around the Internet or from Phil & Teds own site for $79.99 – a steal if you plan to use it as your main high chair.
If you don't want to take my word for how great this is, please also consider it was a winner of a 2012 Cribsie Award for the one thing you should never travel without.