Has your child outgrown the kitchen sink?  Many city apartments come with just a stand up shower – so where does your child take that fun, and much needed bath?  Luckily, there are options!  Like this one from Prince Lionheart - it's called the Flexi Bath Tub.  You can fold it up and put it away when you don't need it.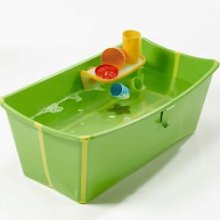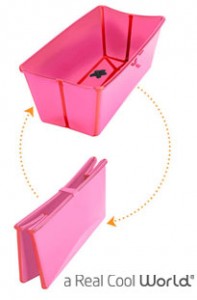 This lightweight (3.34 lbs) and small footprint (9.4″ x 24.75 W x D) comes in a range of colors – Pink, Green, Clear, White, Purple and Blue.  They say it works for kids from birth to age 4 although, my guess is it's best for the toddler stage.  It is BPA free, has a non-skid bottom and has a drain at the bottom to easily get rid of the water.  You can find the quickly on the internet with a price range of $30 – $40.
Oh, and when it's dry and empty, you can use it for stuffed animal storage, like my sister does!