We don't have a lot of extra room in this apartment.  And what room we have has already been utilized for things like couches, and a table to eat at.  So when it came time to find room for toys, we didn't quite know what to do.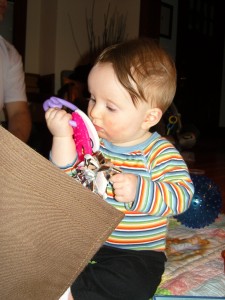 Having been around enough kids to know they often prefer a shoe box to toys until they are much older, we bought a brown storage bin that could fit all of Peep's toys until she was at least 1 year old.  She loved dumping it out, finding things, and using other items around the house.  And we loved bringing in toys slowly to our environment.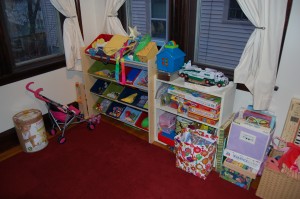 As she got older, she did get more toys and we cleared out the corner of our home office to dedicate to toys.  We still try to keep the toys to a limit and there is some overflow outside of the office, but for the most part, having a dedicated area that is hers, keeps the toys there.  She knows where and how to pick up – everything has a place, and we don't have a house full of toys in every nook.