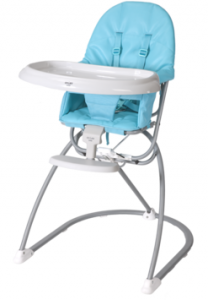 The Astro High Chair from Valco is a very economical and modern high chair which would be a great addition to a small space.  Two words: IT FOLDS.  Yes, it folds down into nothing and can be easily stored when not in use.  I love that style doesn't always come with a high price tag.
When it is in use, the dimensions are 22.4″W x 31.5″D x 37.8″H and folded down it becomes 22.4″W x 31.5″D x 6.7″H.  There are a number of places to purchase this online, and the price range is between $129 – $149, so it is on the less expensive end of high chairs.
It comes in five different colors: B&W Circles, Ivory, Graphite, Chocolate and Aqua.
Additional Features:
Recommended for 6 months up to 44lbs
It's light! Only 3 lbs!
There's a removable tray with three settings
A 5 point harness will keep your child sitting "still" while eating