I haven't written about some of my own choices in products in awhile, so I thought I'd share one of my favorites – the phil & teds traveller.  My mom & I saw this at our local, upscale kid's store when I was pregnant and she insisted that she purchase it for us. (Aren't mom's the best! Full disclosure, I know she had an ulterior motive – we'd need something to bring to her house for visits.)  What we like about it was that it had the convenience of a pack n' play, but was smaller, lighter and frankly, more stylish.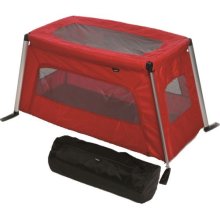 It weighs a total of 9lbs including the blow-up mattress.  When it's open, the dimensions are 51″ x 24.8″ x 31″ (L x W x H).  When it's packed it's a tiny 24.8″ x 8.6″ x 8.6″ and looks like a small tent with a carrying strap.  This means it's easy to store when not in use! The reason it's so light is that the poles are aluminum, and the fabric is nylon and mesh.  We found that it even fits in a large suitcase so this has gone on every vacation we've gone on.  Phil & teds recommend it for newborn until age 3, but I will say that Peep still requests this as her travel bed at the age of 4.5.  She's a bit big, but still technically fits and the familiarity of it is comforting when she's in a new place.  It retails for around $180, and since we travel to see family and friends quite a bit,  it was well worth it.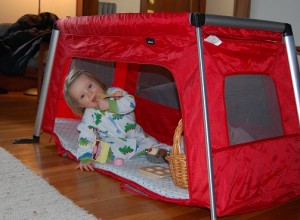 Another great feature is the side zips down, and the top zips off.  This means easy access for toddlers (and moms) and it turns it into a fun place to play.  We've used this equally for travel sleeping and forts.  It is great as an outdoor playpen as well since the mesh keeps it well ventilated and bug-free if you keep the top on.  They now have a special UV mesh that you can purchase for summer days.  We did bring ours to the beach a few times and just threw a towel over the top.
And just for fun, here's a picture of Peep sleeping (age 1.2) looking a little stiff, but cute none the less. Oh, and to make it a bit more cozy, I made a flannel sleep sack sheet (long tube) for the mattress.