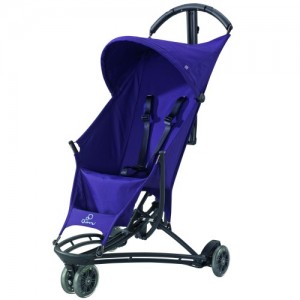 I will admit that I have not seen this in person…but I WANT TO!!!  The Quinny Yezz was designed for city living.  This is a lightweight, fold-able, cool looking stroller.
Some pros that I've come across:
Light – only 11lbs total
Folded, it is 27 x 10.6 x 9.3 inches
Stands alone when folded – so you can "set it and forget it" (I'm pretty sure that phrase should have a ™)
First stroller made entirely out of IXEF® which is a high performance plastic
Skating wheels allows for easy maneuverability
A literal rainbow of color choice – Gray, Blue, Red, Pink, Purple, Green & Yellow
Shoulder strap for easy carrying
Adjustable straps that grow with your child
Some potential cons:
Little to no storage – there is a pocket on the back, but no storage under the seat and with a rounded handle, hard to hang additional bags
The rounded, up-right handles – it looks like it could be awkward to push (caveat is that I have not seen this in person)
It looks like there are limited online stores to purchase, but the price is a consistent $282 with a rain cover available for $37.  If this is your only stroller, then it's not a bad price.
I'd love to hear from anyone that has actually seen one in person!