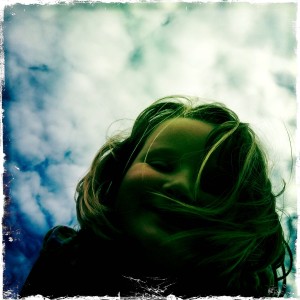 I don't normally post about being a parent outside of CityBaby Living things…but I was struck by this thought and decided to write about it.
I feel as if I know everything there is to know about my daughter. I know every freckle on her nose and forehead. I know what it looks like when she's really sad and when she's faking. I know what she likes and dislikes, how she'll react to most things, what toys she loves and what it feels like when she climbs into my lap.  I can feel her soft cheeks in my imagination and her true gut busting laughter is my favorite sound in the world.
But yesterday when I made my nightly ritual of looking in at her sleeping sweetness before heading to bed myself I realized that I don't really know her at all. For there in her head is a rich world I will only get to look at from the outside. She will become someone I can't even imagine of right now. It struck me as so awesome that I can know someone so deeply in my soul and yet have no real idea of who she'll be, what she'll do and the choices that she'll make.
When I was in high school, my mother gave me a poem that I think was written by an American Indian.  I have long since lost it and don't remember the rest, but the one line I held onto was this: You're children are not you. They come through you, but they are not you.
I am blessed beyond my wildest dreams that this funny, beautiful, strong little being came through me and I can not wait for the future (tomorrow, next year, and 20 years from now).