With Peep now in kindergarten, I'm realizing that we need some updated organization.
One thing I've been looking at are coat racks for kids to help get things off the floor (which is where the backpack/jacket/lunch box seems to be dropped everyday).  Kids coat racks are a great thing for entryway items, but once I started to look at them, I realized they would be great in multiple places.  A corner in their room would work for those sweatshirts that never find their way back into the drawer.  Or, what about a dress-up coat rack?  Bag storage? (am I the only mom with a child that is obsessed with bags of all sizes and shapes?)  Really, anything you want off the floor.
Here are a few options (all retailing for about $100) that I like and are small.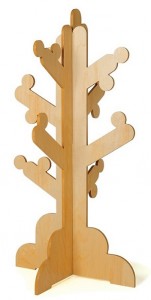 P'Kolino Clothes Rack for Kids:
This comes in white, orange, natural & green, weighs 19lbs and is 24″ x 46″ (WxH). There are no nuts & bolts for assembly, and plenty of branches in high and low spots for kids of all ages.  It's fun to look at too!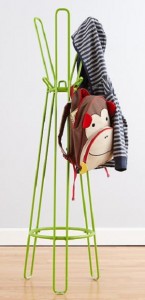 Land of Nod Basic Framework Coat Rack for Kids:
This is a great, basic coat rack to fit your kid's needs.  It's 13.75″ x 48″ (WxH) and comes in green, gray, pink and white.  There are two levels of hooks with bottom rubber grips to prevent scratching floors.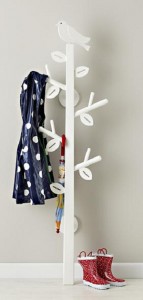 Land of Nod Branches Coat Tree for Kids:
This is a slightly different take on the traditional free-standing kids coat rack.  It actually attaches to the wall and is taller than the other two options above so it may suit an older child or function more for the full family. The dimensions are 19″ x 7″ x 63.5″ (WxDxH).   It comes in white only, but you do have the option for either a bird or owl on the top.