I like products that are light-weight, portable, easy to store, and that you don't have to look at ALL THE TIME.  This does not apply to most toddler activity seats.  But with the Kidco Go-Pod, it does.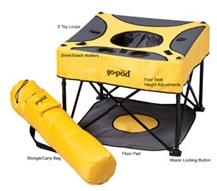 This activity seat doesn't come with a lot of bells & whistles, but it is your basic seat and you can add what you're baby is interested in.  The age range they recommend is approximately 4 months to walking and it has 4 seat height positions to grow with your child.
Additional Features:
Locking Button – Ensures Go·Pod is locked in place; safe for baby

Floor Pad – Keeps baby's feet from touching undesirable surfaces

Drink and Snack Holders

Five Nylon Toy Loops – Holds baby's favorite toys

Storage Bag – Includes pocket for wallet, keys, ipod, etc.

Total Weight: 7 lbs

Folded Dimensions: 6.5" x 6.5" x 29.5" (WxLxH)

Open Dimensions: 24" x 24" x 19.5" (WxLxH) at its lowest seat level

3 color choices – Quick Silver, Sorbet and Pistachio (note: these flavor names don't seem to accurately represent what you're getting – the one above is Quick Silver – anyone want to mention something about yellow???)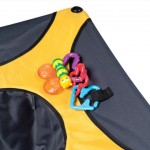 My sister has one for her 10 month old (she's been using it for months – this kid is very physical).  She loves that it can be folded when not in use and easily move-able from room to room or even outside.  She did not like that unless anchored, the toys fell into her daughter's lap. 
Overall, it's a great activity seat for those in small spaces, or who want something they can easily move around.