As Peep gets older, her toys and their parts just seem to get smaller but the boxes they come in just seem to get bigger and more annoying.  Small puzzle pieces come in odd shaped boxes.  Reading games come with wooden alphabet parts in odd shaped boxes.  Board games have dice and come in all different shaped, odd shaped boxes.  Legos (enough said). There's a theme here.  The toy companies are trying their best to make our lives miserable by having all different shaped containers – big and round, big and square, small and square but a different size square from the next.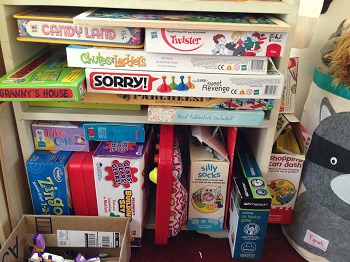 Ugh! They don't fit in a bookshelf all nicely stacked or in the square storage bins everyone has and ultimately, they end up looking like this.  It's like a game of Tetris just to get them to fit.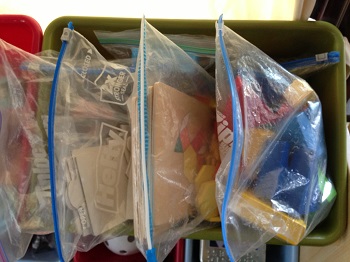 Some of the boxes are so annoying that I've given up on them entirely which leads to my space saving tip. Throw that box away, and store the small pieces in large plastic bags.  It's not that pretty, but there are now 4 large bags containing puzzles, blocks and a game plus a few small bags of miscellaneous elements to other games in this  8″ x 12″ box.  The other benefit is that Peep can easily see what she wants, get it out and then clean it up without any help!  No Tetris skills required.
So go look at your toys.  Are there some that don't need directions and you can ditch the box?