With the holiday season upon us, there are many Holiday Guides being put together both online and in our own heads.  What should I get my child? What do they need and/or want? What can I get rid of to make room for new things?  I don't know about you, but I don't have a lot of extra space for new toys.  I am also very nervous about buying new things for Peep unless I know she's going to love them and actually PLAY with them. (How many toys are sitting in your house not played with right now taking up valuable space??? Drives me crazy!)
So I started to look around the internet for toy rental companies.  The one I came across that I liked the best is called TOYconomy.  (I should state right now that I have not tried them out yet, I'm simply passing on the fruits of my research!)  What I liked about them is that you can pick the toys you want to try and there are a few levels of participation.  Many of the other options pick the toys for you that are "age appropriate" and often have only limited participation fees.  The toy store options are set up by age and the brands range from Melissa & Doug to Lego and LeapFrog.  The toys come fully cleaned, with batteries if needed and if your child falls in love with one of them, you can purchase it for a discount!
Here are a few screen shots from their website to help you understand what they're all about.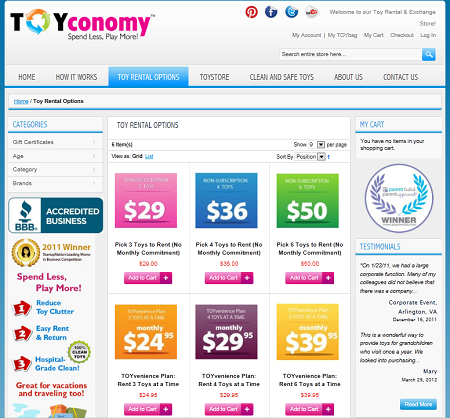 As I said, I have not tried this service (yet) but would love to know if anyone has or would they?