I'm really loving the company Bloom right now.  They were started by 4 dads who wanted to bring function and form together.  And they did.  They have a number of products that I'll be showcasing, but the first is their Bloom Luxo Sleep™ which comes with adjustable sides or not.  The size is small, slightly larger than the Stokke and Leaner cribs (mostly in length) coming in at 55.25″W x 29.75″D x 36.25″H.  As with the Stokke and Leander, the Luxo also grows with your child from age 0 to age 5.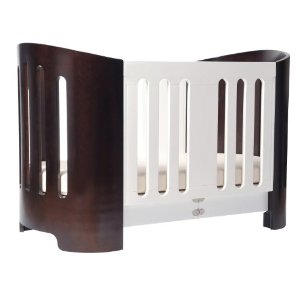 While the Luxo is a bit larger, it does come with a smaller price tag – $990 from Giggle which is not bad if you keep it through the toddler years.  There is a conversion piece to make it into the toddler bed for an additional $200 although I can't tell from the write-ups whether it is imperative to have it.
This crib comes in three colors – Coconut White, Cappuccino/White mix (see here) and Espresso.
Additional Features:
Open slats all the way around for good airflow
2 Adjustable mattress heights for growing babies
Comes in an adjustable or fixed side rail
Folds up for storage
Holds a max of 50lbs
Low voc baby safe finishes
The Luxo line comes with a matching dresser and changing tray
So bravo to the 4 dads at Bloom – the Luxo bed is form, function and stylish.