My office threw me a great baby shower about 3 weeks before I gave birth.  My dear friend insisted that instead of individual gifts, they all pitch in and get me one nice thing (she knew my theory on fewer, better items).  I hadn't registered for a highchair, but she steered the group that way.  They bought me the Stokke Tripp Trapp in bright red.  I loved the chair, but did exchange it for the Cherry to match our dining room. It has proved to be a great chair, and is still used daily.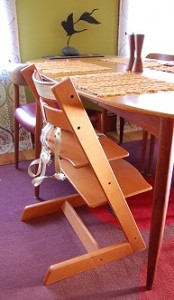 Pros:
Small footprint – 13.3″ x 30.7″ x 18.1″ (DxHxW)
Pulls right to the table – just move one chair out and slide this one in – really allows child to be a part of the meal
Grows with child
Easy to adjust – just a loosen/tighten of a screw or two
Attractive – nothing big and plastic!
Easy to clean (see cushion "con" below)
Even comfortable for adults to sit in (granted, I'm only 5' – my 6'2″ husband might disagree here)
Cons:
No tray – I did love to pull my daughter up to the table, but there were times I wanted to just sit her in something with a tray (I did just see this tray for sale – it's not by Stokke, but is made for the Tripp Trapp – MAJOR PLUS!!)
Harness – I found it awkwardly placed – too low to go comfortably over the shoulders
The cushion – while it added to the design, a cloth cushion on a baby/toddler/kids seat is really just added laundry
To see what another Mom has to say, here is a link to a review by BostonMamas.com.