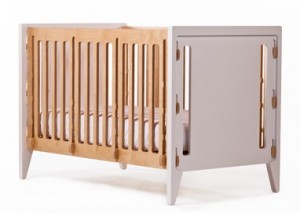 More crib envy here.  The p. pod 5 in 1 companion crib from Gro Furniture is both small and smart. It is one of my favorite types of baby furniture to write about here on CityBaby Living, because it is a convertible product. Not only will it grow with you as your child goes from infant to toddler, but then it can become a play space or even a desk. The dimensions 32.38″ x 55.38″ x 37.25″ (DxLxH) will fit nicely in a small space but is slightly larger than the Stokee Sleepi and the Leander 4 in 1 cribs I've already written about.
However, neither of those cribs can boast that it takes less than 2 minutes to set up, and there are NO TOOLS NEEDED! That's right, there are no screws or nails needed, all of the pieces snap/slide together.  There's a video on Gro Furniture's home page if you want to see just how easy it is.
The base price for the p.pod is $990 and this does not include the mattress.  The conversion kits (toddler, desk/play table, daybed) are all add ons as well.  If you know that you love it and will keep it for the full run, they do offer a bundle cost which is $1,390 and saves you $295 from the a la carte costs.
Gro Furniture also offers the bam b. which is essentially the same crib except that it is made from sustainable bamboo instead of the solid birch the p. pod is made of.  It is also slightly deeper than the p.pod and more expensive (base is $1,490).
So far, these two crib options are the only furniture options from Gro Furniture – I hope they continue to add to the line as these are such great additions to the crib world!  I'd love to see a high chair from them…