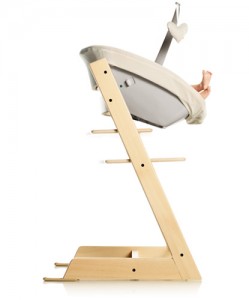 Ok, so I have a 4 year old and I'm still coveting baby items.  Look at this new item from one of my favorite brands, Stokke!  It's called the Trip Trap® Newborn Set™ and I am so jealous of parents that will get to use this!
I mean look at it!  It uses the Tripp Trapp base (which I love) and then there is a baby seat that attaches to it!  The beauty of the Tripp Trapp is that the child is right at the table with you – and now you can do this with your baby?  It also can be used on the ground so there is no need for another baby bouncer – this is one of my main objectives for CityBaby Living – products with multiple uses! I might need a second kid just for this product!
Spoiler Alert: I haven't found a place in the US that carries it, but that will SURE to be only a matter of time.
In the meantime, here are some other amazing benefits right from their website:
From birth and up to 20lbs 
Allow the chair to be used from the baby is born, before it starts sitting.
Bring the baby to the family table from birth
The unit is easily detachable and can be placed on the floor
The unit has a base shaped for rocking when placed on the floor
Rubber profiles under the base hinders the unit to slide on the floor and they protects the floor from scratches
The unit has red-green indicator which turns green when it is mounted correctly to the Tripp Trapp® chair
The unti has a 5-point harness
Included  in the unit we have added additional rear gliders ("Extended Glider") which can replace the gliders attached to the chair. The gliders increase backwards stability
Side support and correct reclined angle give the baby good support and comfortable positioninig
Padding can be detached and be machine washed
A detachable toy hanger to mount a toy for the baby to look at and reach for
The unit is made of high quality plastic which Stokke offer a 3 year warranty for, when owner register it online at stokke.com
A range of washable and reversible textile sets are available in different colors/patterns