Young kids love to move their bodies and get energy out.  One of the classic toys of all time is the rocking horse.  But do you really have the space?  And do you really want to look at it all the time? Enter the company HooHobbers.  They sell a folding rocking horse which is sure to please both child and parent.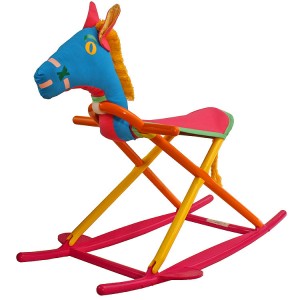 It is a small horse – 22″ x 12″ x 29″ (HxWxD) and only weighs 5lbs, yet it can hold up to 75lbs of weight.  It has a soft head, a solid frame, handles and foot rests.  It comes in three colors, and can be purchased for $49 on their website.
But, the best feature (especially in CityBaby Living terms) is that it can fold up when not in use to only 4 inches high!

Now that really ROCKS! (sorry, I couldn't help myself)