The key to good nursery organization, especially in a small nursery is to have specific places for things, and to keep a system going.  Diapers are no exception.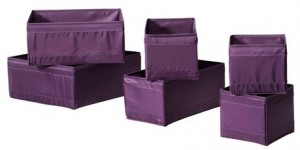 We used these Ikea SKUBB boxes in the top drawer of the dresser where we changed Peep.  That way, I could keep a hand on her, dig into the drawer and get the diapers, wipes, creme, etc I needed with the other hand.  They're collapsible and at $7.99, you can't go wrong.
If you have room next to your changing area, I suggest getting a storage system/diaper caddy that can keep a manageable number of diapers, wipes, etc. like this adorable caddy from The Storage Loft on Etsy.
If you don't have room on a shelf, look at other places in the nursery that you can keep some diapers out and about.  This grey wool caddy comes from BabiesBreath on Etsy. I love itbecause it can hang anywhere – crib, wall, back of a chair, etc., and it's so stylish.
It seems these days, you can't talk about nursery organization without including 3 Sprouts in the mix.  And they are well worth the mentions.  This wall organizer is great for diapers, or whatever and will grow with you and your organizing needs.