The little red wagon is a quintessential childhood mode of transportation.  However, they're really huge to have in your house and store when not in use.  But did you know that there are folding red wagons?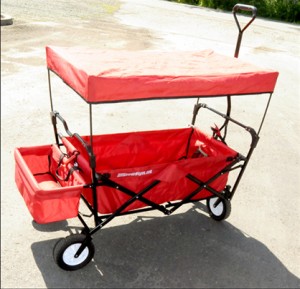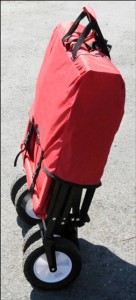 The one in the pictures is from Easy Go Wagons. When open, it's main compartment dimensions are 33 X 17 X 10″ (LxWxD) but when it's folded up, it shrinks down to 32 X 24 X 11″ (LxWxD).  It is on the heavy side – 30 lbs so if you live where you will need to haul it up stairs, it may be difficult.
Additional Features of the Easy Go Wagon:
Additional storage compartment on back for your smaller items
Shade cover protects your items (removable for when not needed)
Cover with webbing straps and carry handles
Dual drink holders
Large wheels so it can go almost anywhere
When folded you can still roll it around on wheels to move easily
Pull handle has clip to lock in upward position when stopped
Front wheels rotate for getting around corners
Hard floor makes it comfortable for kids to sit inside
Powder-coated metal protects against rust
Available in Red, Blue, Black & Pink
Price: $139 from their website 
I just keep thinking about bringing home a toddler and weekly groceries.  I think it could work!
Photo Source: Easy Go Wagon website