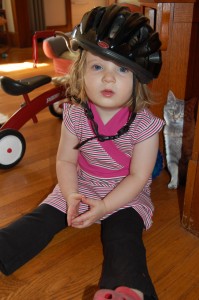 There are many, many, many pros and cons to bringing a pet to come live with you.  Living in the city or a small apartment means another being in an already tight space.  We would love to have a dog, but since my husband and I both grew up on farms, the idea of a dog who has to go on walks and has no sense of freedom is a tough sell.  And I'm allergic to cats so that decision is easy.  But every kid needs to grow up with a pet – right?
When Peep was about 2, I brought home a cardboard cat from work (at the time, I was a Brand Mgr for a top Natural Pet Food co).  She loved it.  We never named her, but she lived in the corner of our living room for several years.  Peep would stop and pet her or have a little chat.  Really, she was the easiest pet I could ever ask for.
I just came across people that agree!  These Flat Pets are created by Chris Ratcliffe in London.  I found a Canadian website that you can purchase them from.  So which do you think you want?
You could also easily DIY your own pet from cardboard and a blown up picture of your favorite pet.