I was a lucky kid in many, many ways.  One great thing about my childhood was that I lived in the same old farmhouse for 20 years.  My parents never planned on moving, so they went ahead and made our growth chart on the inside door of the pantry. (Also, that's what you did then!)  As we got older, we added friends and additional family to the door and it was truly a piece of our family history.  Well, you know it's coming…we moved, and left the door and that history behind. (Cue my mom's tears as she's reading this.)
Fast forward to today.  I do not plan on living in this apartment for 20 years plus, nor do I suspect do many of you.  I want to have a growth chart that I can take with me when I move; to can keep and share that piece of my family history.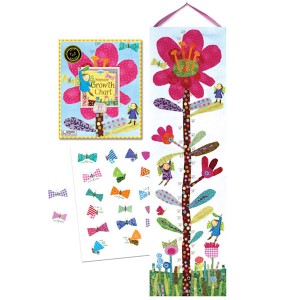 I chose Peep's from one of my favorite companies – eeBoo.  They have a lovely aesthetic with a very whimsical design sense that screams childhood, but not in an icky way. Each of their growth charts can fold into sturdy paper keepsake boxes and are laminated for sturdiness. They also come with stickers for noting special events, like birthdays and holidays although we have not taken advantage of them.
Here are a few other great options.  You'll note that a couple of them come from Etsy – a fabulous place to look for things like this.
I love this Hot Air Balloon from LilBitDesign on Etsy.  There is something so poignant about a hot air balloon going up and up as you track your child's growth.  There are many great designs from this store.
Another great Etsy shop is SimpleShapes. They have a couple of different wall decal options which are great.  I love this bold decal that can comes in 31 different colors!
This is from Land of Nod and is a mirror.  Design wise, I think it's really great, but I'm not sure if it's a practical way to record your child's height.
There are so many options out there…these are just a few to get you started!  Do you have a favorite I missed?