Leave it to City-Moms to create usable products.  I love this storage unit called StollAway from MetroTots.  The history of how Mary Ann Schwanewede came up with it:
"Without thinking much of it she trekked to the baby gear store and asked for 'a hook to store my folded stroller' . The salesman looked at her blankly and said no such thing existed. She found this hard to believe; she couldn't be the only one in this city of 8 million, many of whom are parents, to have this problem. Everywhere she looked in her downtown neighborhood she saw a parade of strollers, 'where was everybody putting them?', she wondered." 
The StrollAway features include: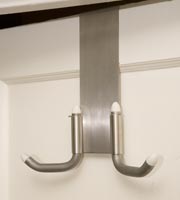 Heavy duty steel construction
Slides easily over the door
Spacer included to fit any door width
Folds flush to the wall when not in use
Fits multiple types of strollers – from umbrellas to Bugaboos
Price is $39.95 from multiple sites and stores – not too bad for getting space back
A great way to get your stroller off the floor and out of the way!