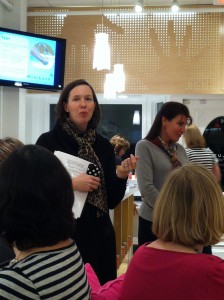 Last week I had the opportunity to learn more about the Graco SnugRide® Click Connect™ 40 that was recently launched through an event hosted by Charlene of Charlene Chronicles.  What a great opportunity for a newer blogger such as myself to spend the evening learning about a great new baby product with a bunch of new and expectant moms.  I should also mention it was held at a MiniLuxe spa so I was also treated to a manicure – whoo-hoo!  Here we are, learning about the product:
I am familiar with the line of  Graco SnugRide car seats since that's what we had for Peep when she was born.  But this new seat is different.  The Graco SnugRide® Click Connect™ 40 is the only infant car seat that provides rear-facing protection for babies from birth to 2 years old, as recommended by the American Academy of Pediatrics. The infant car seat grows with babies from 4 pounds up to 40 pounds, so parents can keep their children rear facing longer, while making sure they stay comfortable as they grow.
I was anxious to get this new seat home and check it out. The first thing I played around with was the adjustable base.  This is really the revolutionary part to this seat. The base adjusts with 8 recline positions to allow the seat to grow with your child and give them more leg room as they grow to age 2.  There is also a harness system in the seat that allows parents to adjust both the harness and headrest with just one hand – without having to rethread the harness.  Both of these features are definite upgrades to the the base SnugRide we had with Peep.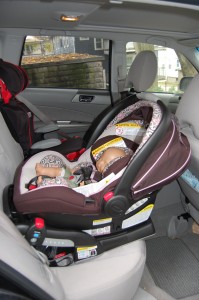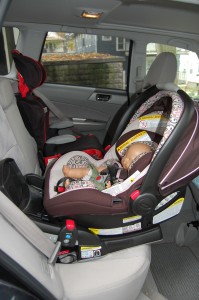 Since I still have a month to go before Teapot arrives, I don't have a real baby to test this out on.  So, I found Peep's doll Emma who is the size of a preemie (17 inches long) to help me out.  Here are two pictures of Emma with the Graco SnugRide® Click Connect™ 40 in my car. Notice in the second picture, that I have the base adjusted to the furthest recline position which would allow her a lot of leg room as she gets older.  There is also a "kick plate" that you can pull up and protect your seat from kicking toddler feet.
Other Benefits
I received the Mena™ design and it is a lovely scroll pattern that is clearly for a girl, but not overly "girly." It is also available in a gender neutral design called the Moonstruck™.
The infant insert is extremely well designed to fit around your newborn.  Emma was snug and sweet and made me excited to see my real baby in it!
It fit in my car.
The seat without the base is 9.38lbs – not too heavy!
Concerns:
It is more expensive than the other SnugRide's in Graco's line.  These retail for $219.99 at Babies"R"Us either online or in stores while the base models start at $139.
I have a Subaru Forester, which I consider to be a big car.  When the seat was in the infant recline position, it easily fit in the back seat.  However, when I adjusted it to the furthest recline position I had to move the front seat all the way forward to get it to fit.  Not sure my 6'2″ husband would fit up there.  Our 2nd car is  Mini Cooper – same problem only more so.
One of my favorite features of our previous SnugRide was the fact that with an adaptor, we could also use our it with our stroller.  With this new Click Connect system, the only stroller you can use this seat with is the accompanying Graco stroller.
Overall, I'm truly impressed with this car seat.  Bravo to Graco for responding to the recommendations of the American Academy of Pediatrics.  I have a feeling this won't be the last type of seat to help parents keep their child rear facing until age 2.
—————————————————————————————————————————————-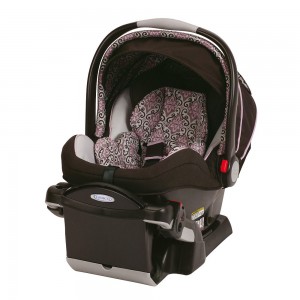 The Graco SnugRide® Click Connect™ 40– the first and only newborn to two-year infant car seat that actually grows with your baby from four pounds all the way up to 40 pounds. The car seat is designed for a parent on the go. The infant car seat can be easily removed from the base and used as a carrier when the infant is small, providing portability and convenience so you can easily move your infant in and out of the car without disturbing them.
The American Academy of Pediatrics recently made the recommendation to keep all children in rear-facing car seats until the age of 2. Graco set out to make this product so parents can keep infants rear facing longer while still keeping them comfortable.
This is a sponsored post written by me on behalf of Graco. The opinions and text are all mine.