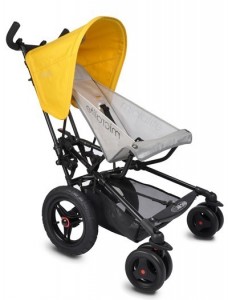 I kind of stalked a mom yesterday as she was leaving the library.  Stalk is a bit harsh, but I did hasten my walk so that I could catch up at the street crossing and check out the brand of stroller she was pushing.  It's a Micralite Fastfold Super-Lite and it's really cool looking! It has a very triangular seat and a big basket below for storage.  The canopies come in basic black, gray, red, blue and yellow.  Best of all, it is only 14lbs and can be maneuvered with just one hand!
The Micralite company is located in the UK and they launched the Fastfold in 2003 with a unique single handed folding system.  The Fastfold Super-Lite is their latest addition to the brand.
Other Features:
Stands upright when folded
One-handed steering and precise maneuverability
Lightweight – only 14 pounds (6.4 kg)
Two position breathable mesh, reclining seat
5 Point Safety Harness
Robust 12″ all terrain removable pneumatic rear wheels
Lockable 6″ front swivel wheels
Easy-grip adjustable handles
Available accessories include Multi-Position Handles, Rider, Maxi-Cosi & Graco Carseat Adaptors, Seat Liners, Travel Bag and Rain Cover (all sold separately)
I found a number of places to purchase these online ranging from $249 to $319 depending on where you got it.  Just to name a few… Amazon, BuyBuyBaby, abd Albee Baby.