I've seen this Leander 4-in-1 Convertible Crib from Tulip in a couple of store, and it is beautiful.  The curvy lines are lovely.  And it's compact.  The dimensions (48L x 28D x 38H) are just an inch or two smaller than the Stokke Sleepi.  One of the best features is that it converts from a newborn crib to a junior bed and everything you need is included when you purchase it.  The ability for one child to grow with it for such a long time really makes this bed.  The last thing anyone wants is to keep buying beds!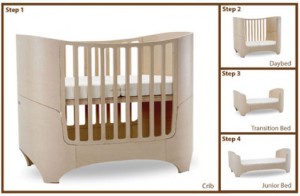 The colors available are Walnut, White or Whitewash (which is close to Natural). You can purchase it from Tulip's website here, and the price is $1,598.  As with any different sized crib, you are beholden to then purchase their sheets.  Currently, you can purchase a set of two, also from their website, for $59.
Additional Features:
3 Year Manufacturer's Warranty
Made in the European Union
Non-full size (48″ x 28″ x 38″)
2 fixed, stationary sides
Molded European beech
Surface treated with a water based finish
Mattress height adjustable in two (2) positions
4 pieces of furniture in one design – crib, daybed, transition bed & junior bed (all components are included)
Comforting – primary sleep unit accompanies and grows with child from infant to tween
I might have a bit of crib envy over this one.